When Sebastian Vettel retired from F1 at the end of 2022, there was a real sense of sadness over the sport. Not only was the sport losing one of its best on the track—Vettel has an incredible four World Championship titles and 53 wins to his name—but a real legend off the track, too.
Since he raced his final laps in Abu Dhabi at the end of the 2022 F1 season, Vettel has kept himself fairly off the grid. Appearances at the Goodwood Festival of Speed and the Monaco Grand Prix have been a few of his rare public appearances this year, until earlier this month when he was reunited with one of his championship-winning cars at the Red Bull Formula Nürburgring. Vettel got back behind the wheel of his Red Bull RB7 again, the car with which he sealed his 2011 title, but this time with a twist; it was running on sustainable fuel.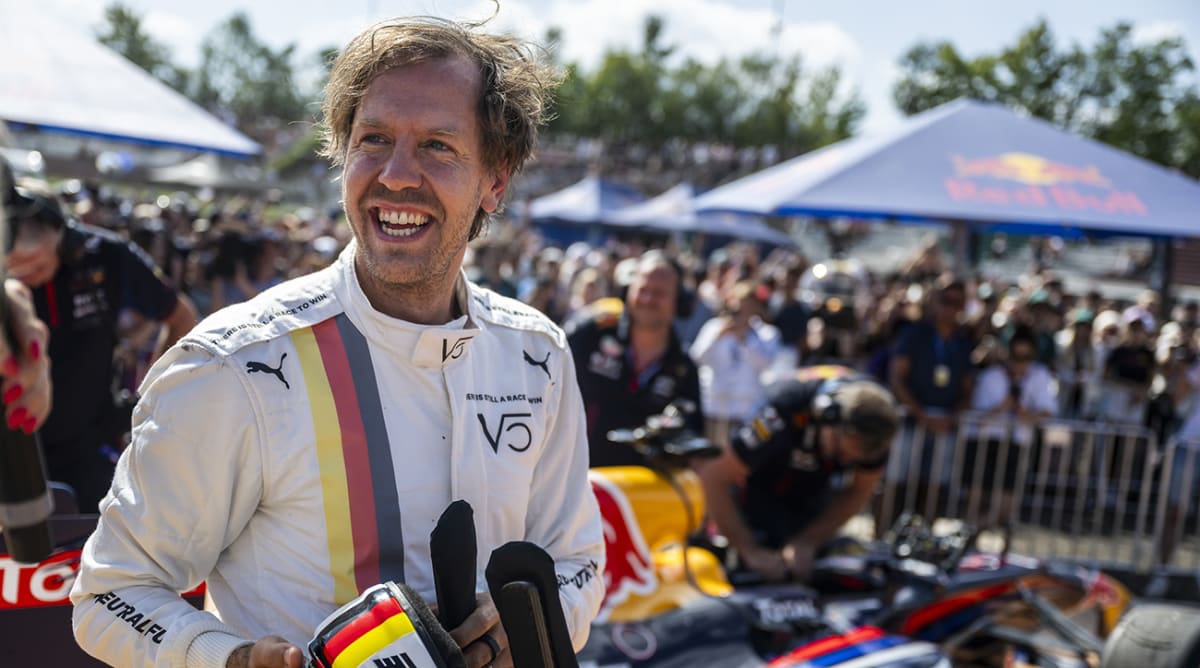 With F1 in Japan this weekend, Vettel has shared details on his new initiative, "Buzzin' Corner," at the iconic Suzuka circuit. Raising awareness for biodiversity, Vettel has helped with the installation of 11 insect hotels at Turn 2 and had the kerbing at that part of the circuit painted black and yellow to follow the theme. Drivers, team principals and team managers helped decorate the wooden structures ahead of the weekend, and it is believed to be the first of many "Buzzin' Corners" at circuits around the world.
Below, the German talks candidly about being reunited with such a special machine, how he's finding retirement, his latest F1 project and more.
Sports Illustrated: You have been back in an F1 car, one of your old Red Bulls, and driving it around the Nürburgring Nordschleife—one of the most challenging but exciting circuits in the world. How was it?
Sebastian Vettel: I had my very first glimpse [the other day]. I wasn't allowed to go full speed, but hopefully I can go a bit faster [next time]! In fairness, I'm not a Nordschleife specialist, so it's probably safer because it's quite adventurous if you don't know where you're going. It did straight away bring back a lot of memories with the car from my time with Red Bull. It's now 12 years ago [since I drove the RB7 car] and some of the crew is the same that runs it, so that's nice. I'm looking forward to it because I will enjoy myself a lot, being selfish. It was the condition to do it with the fuels that I wanted, with the e-fuels, and continue to tell the story with Race Without Trace and showcase that we can do that and have fun, but we can think of alternatives and not be stuck in time and do it just because we've always done it that way. Especially for motorsports, which is niche, but then historic motorsport, which is niche, again. It's great if we start moving, because it's a fast world, literally, so we should be a lot faster with these kinds of things.
SI: Do you think e-fuels will be the future of racing?
SV: I think e-fuels will play a part in the future. Looking at all the racing cars that have a combustion engine, it has to be their future, because otherwise . . . they would disappear, which would be a shame. Looking forward to the bigger picture, Formula 1 is committed to sustainable fuels in 2026 and onwards. But, I think the real commitment should be, and has to be, that F1 plays a much bigger part in pushing the boundaries when it comes to future technologies that are actually being transferred to the road and help mobility. Make the cars more efficient, smarter, better, safer, these kinds of things. Maybe you could argue, despite spending a lot of money on technology—which is amazing in many ways and in terms of efficiency—how much is getting transferred to the road?
SI: Talking of the future, do you see any F1 races in Germany soon? The Nürburgring hosted a one-off race here during the pandemic in 2020, but there are no known plans to return.
SV: No, I don't. It's a shame, I love the sport. Here's a great track; you've got the big track, but even the Grand Prix circuit is great. You know that everybody would really enjoy having it on the calendar. Racing in Germany is popular, obviously. You've got Michael Schumacher as the god of racing, and we had great years with a lot of German drivers. Now, Nico Hülkenberg [Haas F1 Team] is still there, Mick Schumacher is sort of the future, but it's probably not that promising. It's not a lack of talent, I don't think, but motorsport in Germany is not so popular at the minute. It still has popularity, but for an F1 race the price is very high to get a race to come to your country. Maybe Germany is a bit too realistic in some ways. It's also right, in a way, to ask the question of whether you can still have that sort of event, a "fuel party" sort of thing, in these times. That's why I'm maybe a little bit more afraid than most people; it would be a shame if we would lose these types of events. That's why I think realistically and say, probably not anytime soon, but I would love to have it back in the future. Audi is coming in 2026, so that hopefully gives another push to Germany.
SI: This weekend you're driving a car that you nicknamed "Kinky Kylie." You had a habit of naming almost all your cars in F1, but you never confirmed what you called your last car, the Aston Martin AMR22. Did you ever give it a name?
SV: No, I didn't. It's funny, it's not for a reason. It wasn't like, O.K., let's make a statement. But maybe it was just time.
SI: Lastly, what have you been up to now that you've got all this free time away from F1? I know you mentioned that you wanted to do more carpentry.
SV: A little bit. Yeah, I enjoy that, doing stuff with my hands and building something. I'm building a lot of birdhouses for next season, making them all look different; the target is 30, but I think I'm at 12. When I grew up, my father was a roof maker, so it's a great element. Other than that, I have really enjoyed time with the kids. We've been traveling with the van a little bit, enjoying the freedom, but also then looking into different things. I'm also going to the Japanese Grand Prix, not just to watch, but more with a purpose in mind. Together with F1 we are planning on doing something, and hopefully starting something, for the future as well. So I'm excited about that. Still in the phase of collecting lots of ideas and running out of time every day.