When a problem seems big, we're supposed to zoom out. Perspective tends to put everything in its place. We are, as Pinto Kroger said in Animal House, only one tiny atom inside the fingernail of a giant being.
But the more we pulled back on the Bears' fourth straight loss Sunday, the harder it was to wrap our arms around the depth of the issue. This was far more than a knockout blow to their playoff hopes. This was, optically at least, a disaster in several acts. While I will personally remain a believer in what the Bears were trying to do heading into this season, my guess is I won't have much company.
Consider:
• With the game on the line in the fourth quarter Sunday, Matt Eberflus, whose team had already blown a 28–7 lead to the previously winless Broncos, trotted Justin Fields out for a fourth-and-1 attempt. Fields, along with coordinator Luke Getsy, had been masterful, throwing for four touchdowns. Some of them were so wide open Cole Kmet looked like he was a realtor showing vacant lots. But the fourth-down call was to try to force the Broncos to jump offsides, which preceded the usage of a timeout. Then, following the timeout, Fields was trotted back out to hand the ball to Khalil Herbert (Herbert, as you can guess, was stuffed).
In Eberflus's defense, Herbert had been gashing the Broncos and averaged more than five yards per carry. Had the Bears thrown the ball, some may have also crushed Eberflus for taking the ball out of Herbert's hands. Also in Eberflus's defense, we don't know whether Fields had any ancillary options and decided to pull a Shane Falco.
That said, the symbolism of the move could be interpreted as both a soft mistrust of the offense, and of Fields, who had finally broken out of his early-season slumber.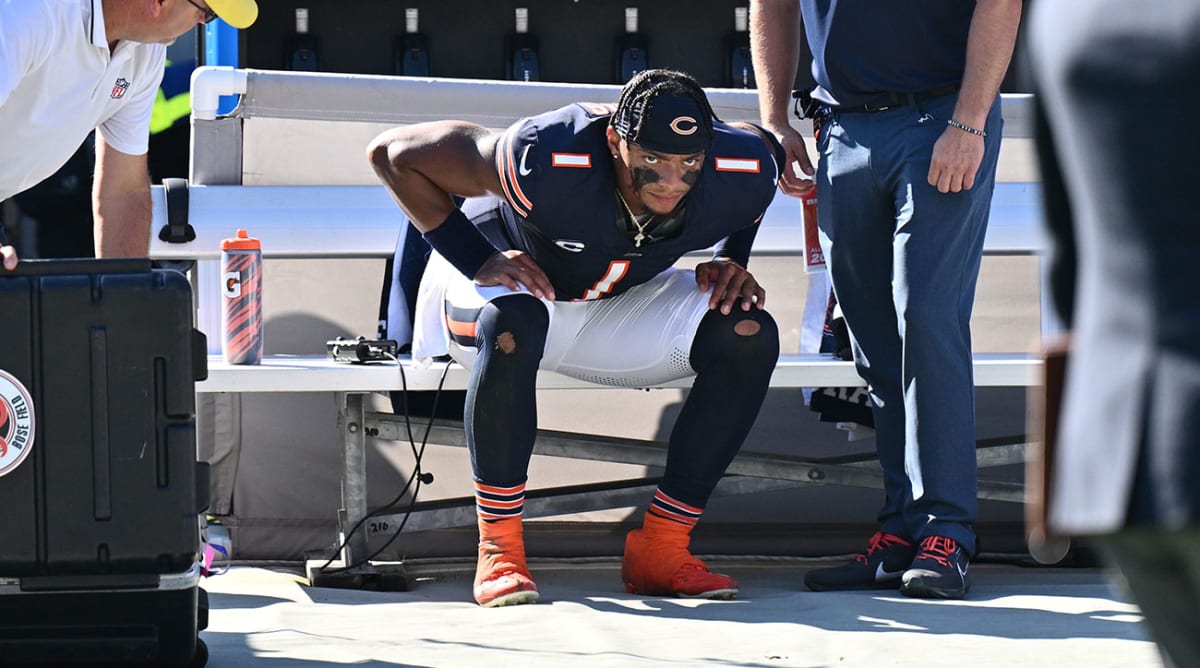 Now let's pull back a little bit further …
• The Bears immediately gave up a chunk play that put the Broncos in position for a game-winning field goal. Then, when the Bears eventually got the ball back down by three points with enough time to get themselves into position for a game-tying field goal, Fields began to struggle. Much as he has in similar situations when all run action is off the table, he wandered, held onto the ball and forced an interception. While this shouldn't put a total damper on Fields's game, it does underline either his objections with play-calling, or his inability to be game-planned for in those situations.
Now let's pull back a little bit further …
• Around the same time, Colts rookie QB Anthony Richardson was leading an (ultimately failed) comeback against the Rams, becoming the first rookie quarterback to rush for four touchdowns in his first three games. Texans rookie QB C.J. Stroud, for the second straight week, looked like an ascending star. In his last three games, he's thrown for six touchdowns and no interceptions. The Bears had the No. 1 pick in the 2023 draft and opted to keep Fields over both of these quarterbacks (and Bryce Young).
I'm trying to keep my distance here because, again, I liked this Bears plan. If you told me Ryan Poles and Eberflus got to come into this season with Fields, extra draft capital and DJ Moore, I would have signed up for it every time. I liked both hires in the first place. I defended Fields against forces I believed to be hindering his development. My name is all over this one.
All I can do is point out how it looks right now.
I'm sure if we pull back even further yet, we can consider the emotional weight of a chaotic season so far in Chicago, dealing with issues that have nothing to do with sports. We can see half of the offensive line on injured reserve. We can see a team that was probably another year away, but due to its free agency aggression and Aaron Rodgers's exodus from the NFC North, was vaulted into trendy competitor status too soon by over-excited keyboard pushers like myself. We can see a coaching staff and a front office that actually pipelined some solid late-round picks into the lineup and, if given some time together, could form the foundation of a solid roster. Don't forget the Bears still own the Panthers' 2024 first-rounder, and Carolina is the league's only other 0–4 team.
But, it's up to a lot of people to veer back toward that optimistic ceiling rather than spiral toward the No. 1 pick yet again. And the Bears currently have problems you can see, even from 30,000 feet.