Sonny Dykes learned a lot of things from his father, Spike, a Texas coaching legend. Among them was the importance of fundamental football math.
"You have to start with the basics, and that's making sure you have 11 people out there," Spike told Sonny at one point early in Sonny's coaching career. "You might want to have someone counting players."
So he does. These days at TCU, Dykes has one of the program's strength and conditioning coaches count bodies going on the field for every change of possession, every kicking situation and after every timeout. When the numbers are right, the staffer gives a thumbs-up signal to Dykes.
"Even with someone counting, sometimes all 11 don't go out," Dykes says with a laugh. "I learned that lesson at some point after screwing it up. Fortunately, it wasn't against Ohio State on national TV."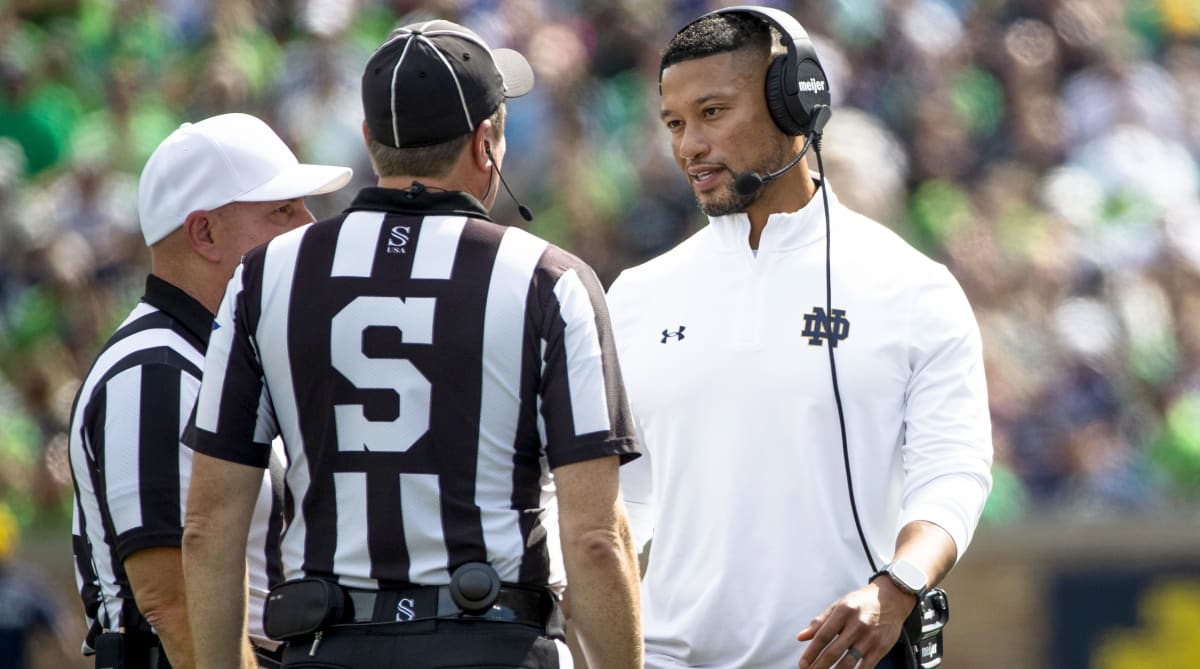 Alas, this is the unhappy place where second-year Notre Dame coach Marcus Freeman currently resides. He's having to answer for finishing the decisive sequence of a fierce game against Ohio State on Saturday night with 10 defensive players on the field—for not just one play but two consecutively. The Buckeyes scored the winning touchdown with one second left by running into the void in the Fighting Irish's defensive line created by the missing player.
"I can see it happening once to a team, but two plays in a row is more of an issue," says one Power 5 staffer. "Tough situation. But I think every team in the country is double-checking that aspect of their system now to make sure they have that covered."
While coaching staffs nationwide are scared straight by the Great Midwest Miscount, here's the next layer peeled on this rancid onion:
So uh, Notre Dame only had 10 players on the field on this play. Tennessee State nearly scored a touchdown.

That can't happen against better teams. pic.twitter.com/AXqlL76PTz

— Tyler Horka (@tbhorka) September 4, 2023
This was from Notre Dame's Sept. 2 game against FCS opponent Tennessee State. It's a post from one of the beat writers covering the team, Tyler Horka, showing that the Irish's defense had 10 men on the field for a play that the outmanned Tigers nearly exploited for a touchdown. "That can't happen against better teams," Horka wrote at the time, an oracle of doom.
Thus we have established that Notre Dame has a severe math deficiency on the defensive side of the ball. Given the size of the staffs in modern football, there should be someone in charge of everything but tying shoelaces. And if the Irish have someone this bad at counting, that person might need a new line of work.
The 37-year-old Freeman has been admirably accountable for the Ohio State fiasco, shouldering the blame himself. He's declined to discuss specifics about what broke down in Notre Dame's communication, or which player was supposed to be in the game. Following Freeman's lead, Katy Lonergan, the program's media relations director, declined to answer a question from Sports Illustrated about whether the Irish have a designated staffer who counts players.
(The team's pregame media notes identify offensive coordinator Gerad Parker and defensive backs coach Chris O'Leary as the only full-time assistants in the box during games, though other support staffers are there with them.)
It stands to reason that Notre Dame does have a coach with counting responsibility. Many, if not most, other programs do. Two-time national champion Kirby Smart says Georgia has a designated player counter in the coaching box, where the view of the field is more clear. So does LSU coach Brian Kelly—the person Freeman replaced at Notre Dame.
But both those veteran coaches acknowledged the in-game tumult that swirls around every team, especially in close games. While not every coach has had as glaring a personnel absence as Freeman did at such a crucial moment (on successive plays), every coach could relate.
"Oh, it's always chaos on the sideline when you're moving young kids in and out of the game," Kelly says. "But the one that's really crucial is your nickel packages, moving them in and out, and certainly every time you're calling for goal-line [personnel], because you're moving multiple players in and out. We have one coach designated for [counting] personnel in those situations, because they have always in my 30 years been the most problematic. I've had situations in my career where you don't have a corner on the field; you have an extra guy and get a penalty."
In the obsessive subculture of football coaching, hours are spent agonizing over how to avoid such mishaps. Details are sweated. Contingencies are prepared for. An endless number of scenarios are repped at practices, just in case.
But what's drilled on the practice field on a Wednesday doesn't always translate to live-game execution on Saturday. Especially an end-game, all-hell-breaking-loose situation with tens of thousands of people losing their minds around you.
"You can't simulate the chaos," says Smart. "And you can't simulate the stress."
There is a reason coaches often fall back on the trite "I have to look at the film" line before making some declarations after a game. It's not always a cop-out. The games are played in something akin to the fog of war, without anything close to omniscient understanding of everything that transpires. And field level, where every head coach operates, is often the worst view in the house.
There are many more opportunities for substitution errors in today's game than there were even a decade ago, as personnel-specific packages have proliferated. The offensive chess game in search of a matchup advantage has been met with defensive counters. Now players are flying in and out based on down and distance on both sides of the ball. For instance, 51 Notre Dame players saw action against Ohio State.
"It's a little more chaotic as offenses have evolved," Smart says. "You go back 10 years ago, 15 years ago, we played an LSU-Alabama game [when Smart was a Nick Saban assistant] where they had the same people on the field almost the whole game. As tempos evolved, increasing the number of plays for offenses and offensive personnel, specialized, it's made defenses try to match and react to that. When you do that, you try to involve more players."
Smart cited another very modern reason why teams are substituting more: to spread out the snap count and keep players from transferring.
"You can blame some of this on the portal philosophically because you want to play more guys so you can keep them in your program," he says. "So you've got to create roles for guys, and well, you've got to sub 'em. Fifty years ago you played 11 players, and that's all you played. Defensively we're playing 30 or 40 guys, and that creates confusion within your own group. And offensively, too.
"So more than ever this year, it's been a concern for me, burning timeouts and organizational things you can't afford to do. So we've put a much larger emphasis on that in practice. We don't have one guy who looks at it. We have guys in the box who are constantly looking at it."
Dykes says that the general mayhem of a close game is a big reason why he leaves play-calling to trusted coordinators. The head coach needs to navigate the bigger picture of time and score and field position, thinking ahead about closing scenarios, weighing options. Those things are nearly impossible to do with your face buried in a call sheet.
"I don't know how guys do it," Dykes says. "So much of a head coach's job is making rational decisions. When I was a coordinator it was, 'Fourth-and-30, s---, we're getting this. Let's go.' Now as a head coach, the thinking is different."
Dykes, of course, oversaw one of the greatest mass-substitution plays in college football history last year during TCU's magical run to the College Football Playoff. The Horned Frogs remained unbeaten at the time by beating Baylor on a walk-off field goal, famously called the "bazooka kick" in TCU's team vernacular.
Trailing the Bears 28–26 with 2:07 left but retaining all three timeouts, Dykes used them while getting a crucial three-and-out stop by his defense to force a punt. Taking over at the TCU 31, Dykes grabbed special-teams coordinator Mark Tommerdahl and told him to have the "bazooka kick" ready. When TCU advanced the ball to midfield, Dykes had a quick discussion with offensive coordinator Garrett Riley about how he wanted him to sequence the final four plays to set up the kick for the win.
That sequence sent everyone watching the game into spasms of second-guessing. Frogs quarterback Max Duggan spiked the ball on second down with 22 seconds left, and that was followed by a running play with no timeouts left that moved the ball to the Baylor 23—seemingly out of order in terms of giving the kicking team time to set up. But Dykes didn't want to give his kicker, Griffin Kell, too much time to think about the monumentally important field goal attempt.
The clock was at 16 seconds and ticking. Eleven white-jerseyed Frogs ran off the field, and 11 ran on. It was a fire drill—a completely orderly fire drill.
"We had practiced that exact same kick 16 times, and our kicker had made it 15 of 16 times," Dykes recalls.
The execution belongs in a football museum. TCU got the entire unit set and ready in 10 seconds—with Kell last onto the field, giving Dykes a momentary scare. The ball was snapped at 0:04, Kell struck it with his right foot at 0:02 and the clock hit 0:00 before the ball landed in a knot of delirious TCU fans on the McLane Stadium hillside behind the end zone.
"I can't believe what Sonny Dykes just did!" exclaimed Fox analyst Brock Huard.
"That is a walk-off, really a run-off, for the ages!" followed play-by-play man Jason Benetti.
The play was a signature moment in an epic TCU season. It was a testament to cool-headed coaching and in-the-moment players doing what they'd practiced repeatedly. And despite that, Sonny Dykes knows how easily it can go wrong in a pressurized situation.
"Sometimes you get lucky," Dykes says. "And then sometimes something happens. What happened to Notre Dame has happened to me, just under less-viewed circumstances."