Editors' note: This story contains graphic language pertaining to sexual violence. If you or someone you know has been impacted by sexual assault, contact the National Sexual Assault Hotline at 1-800-656-4673 or at https://www.rainn.org.
Here's a song inspired by the qualifying rounds of the U.S. Open. Note the story behind it. (And note to the story behind it: Commission this guy!)
http://noahjazz.com/agony-of-defeat-with-some-thrill-of-victory/
Totally apropos of nothing … I was cleaning out years of files this weekend. Files. Clippings. Basketball. Book files. TV crap. UFC. Tennis. And I came across this quote from wrestler Rulon Gardner. At the 2000 Sydney Olympics, he was asked which athlete he admired most. His response? Monica Seles. Why?
"I was walking by and stopped to talk to her. We walked for about 20 minutes. She waited for me to get my camera and get a picture with her. That was before I won a medal. She didn't know I was going to be a hero, whatever people are saying. I was just a big guy. I respect people who are genuine."
Onward …
So let's start here … in the past few days, both Linda Nosková (who is 18, FFS!) and Markéta Vondroušová have reposted some of the online abuse they received lately, clearly the spume of gamblers who have lost money wagering on their matches. This is not unique to tennis, but there's a huge moral failing here. The tours and ITF and media companies get the financial benefits of "sportsbooks," "gaming" and "data." (Aside: Any time there is a euphemism, be suspicious.) The players not only are foreclosed from this revenue—they can't use the products; they can't, say, wear the patch of the same company whose logo adorns the courtside signage—but they get the vile abuse.
I had heard a story about Nicole Melichar-Martinez, the American doubles player, getting a message so awful she turned a troll in, and ultimately got this cretin alerted to the authorities. We spoke a bit the other day, and here are some outtakes.
Sports Illustrated: What happened?
Nicole Melichar-Martinez: It was in 2018. It was in Eastbourne. And, I was playing with Květa Peschke, and we had just lost a match after being up, like, 6–2 in the match tiebreaker. You always get those, you suck at tennis, I hope you die, like, I hope your family gets cancer, blah, blah, blah; stuff that you just either report or delete or whatever. And then I get this message from this guy: Next week when you're in London, I'm gonna find you and I'm gonna rape you. And I was like, 'O.K., that is too far; that is a threat.' It was an actual profile; you could see the guy on Facebook.
I was like: All right, he knows I'm going to be in London next week. And he had sent something similar to [another player]. I went to the head of security on-site and showed them screenshots of the messages. After we reported him, they actually found out who he was. He was from Bristol. They went to his house and [took him] to the station. They just gave him a warning. But it's at least in the record. I guess he was just betting on us. It's always gamblers; it's always people who lose money, and they get angry.
SI: Do you have any opinions on what we do here? If gambling is here to stay, and social media is here to stay, and pathetic men who lose money are here to stay, what do we do about this?
NMM: It doesn't help so much, but on Instagram, there's actually a filter where you can block out anybody that comments with specific words. You put in b----, c---, cancer, whatever. And then any comments that pop up with these words, it won't show it to me. But I have no idea how we can stop people. We're supposed to take screenshots of abuse and email it in. But if you get 20 of them—or some of the top players are probably getting hundreds of these after matches—you're not going to send a screenshot of every single one.
I don't know if social media can somehow link their social media accounts with the IP addresses; if they have gambling accounts and then if there's a correlation in the IP address then that computer, they just can't gamble or something. You have to get verified on Airbnb and prove who you are before you can like make a booking. Maybe on gambling websites you actually have to prove who you are?
SI: It seems to me like the players get the brunt of it. The players get the trolls and the players get the hate, and, meanwhile, everyone else in the sport gets the money.
NMM: Actually we just recently got an email—it was more directed towards like, I think, more towards the Russian players—[that] we're allowed to wear patches on our clothing, like sponsor patches, supported by companies that are in support of the war. But the way they worded it, "You're not allowed to be sponsored by a company that is like embarrassing to the WTA." But it's like, what does "embarrassing" mean? Is being sponsored by McDonald's embarrassing? McDonald's is super unhealthy, yet it is [a] sponsor of the Olympics. We're not allowed to be sponsored by betting companies because that would be embarrassing or unethical or whatever. But then every single tournament is sponsored by a betting company. Everybody is cashing out yet; we can't because we're not allowed to?
---
Jon,
Both tours are currently in China. Has anyone from either tour—man or woman, player or administrator—said anything about Peng Shuai, or even done the smallest symbolic thing (like wearing a pin or a ribbon) to raise that issue, if only obliquely? Or has anyone chosen not to play there in protest? I haven't heard of anything along those lines, and it's kind of depressing. But maybe I've missed something?
Srikanth
Um … if you have missed it, I have as well.
Jon, I've been meaning to ask you this for a while. Do you have a favorite piece of tennis writing? It's O.K. to include your own!
Elizabeth G., New York
The reflexive answer is Davis Foster Wallace and Tornado Alley. But, (maybe because I am friendly with both writer and subject), this piece on Lisa Raymond by Emily Bazelon has always stuck with me. Pete Bodo's essay on Bjorn Borg's comeback is a gem. This summer's Sally Jenkins piece on Chrissy and Martina.
Two points:
1) Note that I am only giving you English. I am sure there are comparable keyboard titans in other tongues. For instance, Francophone/Francophile tennis fans will say that Philippe Bouin ranks among the great, graceful tennis writers.
2) For all of tennis's deficiencies, good writing is not one of them. I'd go so far as to say the amount of good writing compared to the sport's appeal is quite a favorable ratio.
Just skimmed thru SI mag "The Money Issue" I just got & see there are no tennis players featured. I never understand why there's so few articles about tennis in SI. Is tennis not considered a money sport? Or valid enuf for SI coverage?
B. Pearson
There's a larger conversation here about resource deployment and the role of data in media. But the short answer: I love tennis. You love tennis. We all here love tennis. But, at least in the U.S., it is a niche sport. And getting nichier. This is apparent in the television ratings. This is apparent in the player wages. (The median salary in the NBA will soon eclipse $10 million; as I write this, Novak Djokovic, the best of the best, has made $10.5 million in prize money). This is apparent in valuations. Based on the CVC stake, the WTA has a $750 million valuation; that's roughly the price of a single MLS franchise.
Some caveats/bright spots. As individual athletes, tennis players can—and do—make bank in off-court income. As a global offering, tennis remains strong. For better/bettor or worse, tennis is among the top sports for sports gambling, which might be problematic but at least is a bulwark against irrelevance. Tennis's demographic remains desirable. Maybe above all: What's wrong with being niche? There are plenty of thriving niche businesses. You don't have to be the NFL to be successful.
But, yes, as much as we all enjoy and defend tennis, there are sobering indications that its market is not what it was, could be or should be.
Please help me understand the Hall of Fame. Am I wrong that you need to have more than one major to be eligible? If not, how do players like Carlos Moyá and Ana Ivanović even get on the ballot?
Charlie, NYC
For better or worse—and I am open to the suggestion it is better—there are very few ground rules here. There is certainly no "two-major minimum," as much as many voters would like there to be.
The overarching questions: Are we prepared to override precedent and effectively say, "Yeah, the bar used to be here. But it's elevated, and now is here." If we are not, then, how do you let in Michael Stich (one major, one other major finals, never got to No. 1) and not Moyá (one major, one other major final, DID get to No. 1)?
One major is, of course, problematic. Say Daniil Medvedev never wins another major. I'd still vote for him. One major, beating the mighty Djokovic. Five major finals. Reached No. 1. More than 20 titles. Maxes out "them's good people" points. In the end, his résumé will likely approximate that of Andy Roddick. That's totally different from other one-slam winners who caught lightning in a S'well bottle and never came close to replicating that result.
Jon, you have written about pickleball, but I am curious whether you play and, if so, how often?
David H., Encino
Full disclosure: I have played pickleball a few times this year. Brett Haber (name and shame!) deflowered me. Then I played with my wife and kids on vacation. And … it's kind of awesome. Easy to pick up, especially if you have some tennis aptitude. Rewards touch. Little time between points. The soundtrack is just dreadful. But, overall, there's a lot to recommend. I totally get the appeal.
But … I double down on what I wrote last year. This should be complementary to—not competitive with—tennis. It's not the same workout. It's not the same skill set. Pickleball doesn't replicate tennis's array of shots and angles. For me, tennis is a superior spectator sport. I haven't found an analogy that quite works, but Putt-Putt versus golf isn't bad.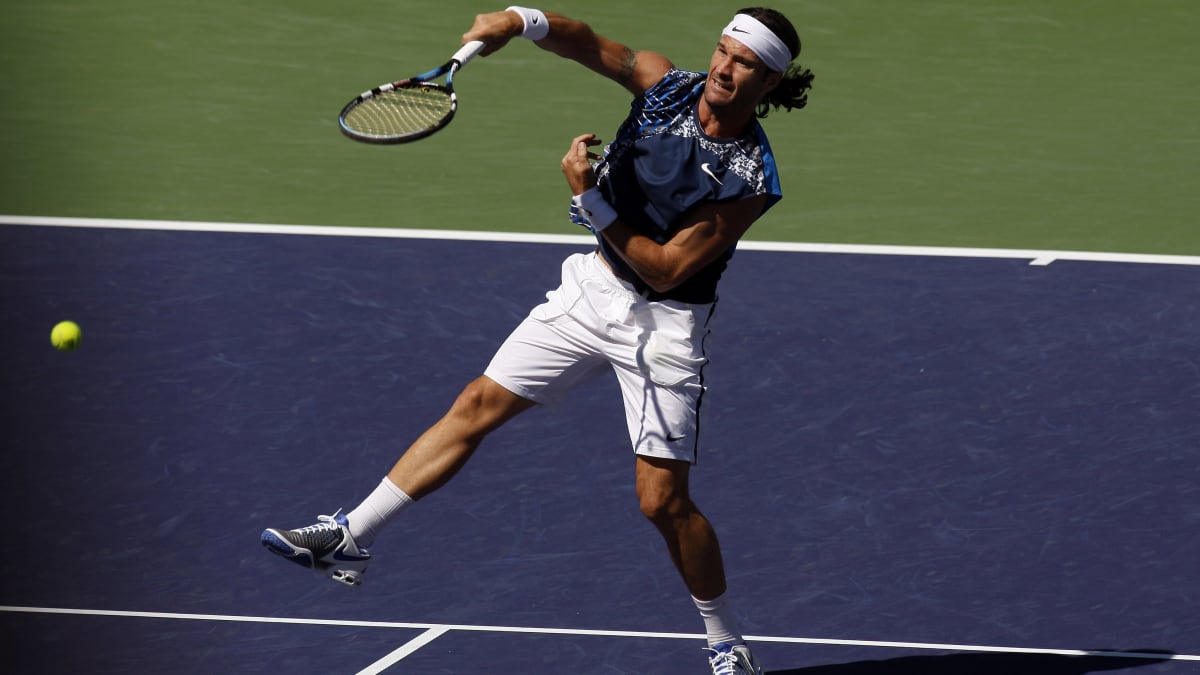 Shots
The USTA announced last week that Hall of Famer, Grand Slam champion and four-time year-end world No. 1 Lindsay Davenport will be the next captain of the U.S. Billie Jean King Cup team. A three-time Billie Jean King Cup champion, Davenport will become the team's 20th captain following the 2023 finals, which will be captained by Kathy Rinaldi.
The WTA will return to Austin for the ATX Open from Feb. 24 to March 3 at the Westwood Country Club. Tickets will go on sale Oct. 16. The inaugural tournament earlier this year was won by Marta Kostyuk from a field that included Sloane Stephens, Danielle Collins and former University of Texas standout Peyton Stearns.
Continuing its mission to empower women through equality, education, leadership, and health and wellness, WTA's philanthropic arm, WTA Foundation is dedicating the month of October to promoting and supporting breast cancer awareness. WTA's official health and equality partner and pioneer of 3-D mammography, Hologic, is again partnering with the campaign this year. As part of the collaboration to champion women's health worldwide, the two organizations will continue to highlight preventive and educational health initiatives, culminating with the annual WTA Foundation ACEing Cancer by Hologic campaign, which provides financial support to researchers and nonprofits dedicated to fighting cancers that affect women.
Hanlon Walsh, take us out …
Hope you've been doing well, and thanks again for all of the great SI coverage. Wanted to leave a follow-up mailbag comment after seeing Nancy Silverman's post last week giving a much-deserved shout-out to Americans Nate Lammons and Jackson Withrow, both top-30 doubles players who are having a career-best year in 2023.
Hope you consider publishing this one—it's lengthy but important.
SI Mailbag closing comment
In last week's mailbag, Nancy Silverman wrote about the impressive rise of Americans Nate Lammons & Jackson Withrow in 2023 and I wanted to echo her praise of this doubles team, who is very much flying under the radar. I got to speak with Nate and Jackson this summer after their title win in Atlanta, and both seem like humble, hard-working guys who are quietly enjoying a career-best year. In their championship speech, they even took the time to publicly thank ATP media veteran Greg Sharko in what was his last tournament after 37 years on tour. Rarely, I would imagine, do we see players go out of their way to thank media and communications staff on the mic during even the biggest of occasions.
Lammons/Withrow just won their 4th ATP doubles title of the year in Astana in what was their *8th* final of 2023. This year, they've also advanced to back-to-back majors QFs at Wimbledon and the U.S. Open that included a win over No. 1 Koolhof/Skupski, currently sit at career-high rankings of No. 28 and No. 29 and are on the cusp of potentially qualifying for Turin at No. 8 in the ATP doubles race. I wouldn't be surprised to see them creep into future U.S. Davis Cup lineups (or even make an outside push for the '24 U.S. Olympic squad).
For a team with little fanfare and humble beginnings from college tennis to the challenger circuit, having a career year like this in your late 20s/early 30s can be life-changing or career-extending when it comes to prize money, ranking points and tournament entry. I only wish our sport would do a better job of capturing the stories of "working class" tennis players where the stakes are incredibly high with every win or loss (CC: Netflix). The players who won't be getting the HOF nod, invited to stroll down the red carpet at the Met Gala, or included in repetitive GOAT debates anytime soon … but those who represent the reality for most pro tennis players scrapping each week trying to make a living on tour.
Thank you for keeping the SI Mailbag going consistently over the years so tennis fans have a grassroots platform to share unheralded stories that may not get noticed elsewhere (especially for the doubles game). For those interested in learning more about Lammons/Withrow, I wrote about their quiet rise up the doubles rankings earlier this summer after their title win in Atlanta: Nate Lammons & Jackson Withrow Enter New Doubles Territory (thetennistribe.com)
Thanks as always,
Hanlon Walsh (@HanlonWalsh on Twitter)
Contributing Writer for The Tennis Tribe