The ball was out of Darrion Trammell's right hand and in the air, taking a palpably tense arena along for the ride to the rim. The KFC Yum Center momentarily hushed as every eyeball in the place followed the arc of the shot. This moment would decide a desperately fought South Regional championship game—but not in a way that was immediately evident.
There was a startling audio intrusion before the ball got to the basket and clanked off the iron. Official Lee Cassell pierced the dramatic pause that accompanies a mid-air shot with the shriek of his whistle, calling a foul on Ryan Nembhard that virtually no one saw in real time. The call would send San Diego State to its first Final Four, send Creighton coach Greg McDermott into a sideline rage, send Aztecs guard Adam Seiko into an overwhelmed flood of relief, and send Trammell to the foul line for the winning free throw in a 57–56 battle.
Replays showed what Cassell saw: with 1.2 seconds left, Nembhard had wrapped his left hand around Trammell's hip and applied enough of a shove from behind with his forearm to send Trammell to the floor as his shot clanked off the front of the rim. It was a foul. It was also the kind of call that a ref often will not make in a moment like that.
Trammell: "I knew I got fouled. He came under me, and I felt like he hit my arm. The ref saw it, thankfully he called it."
Nembhard: "He got downhill and tried to make a floater. I tried to make a rearview contest. Called a foul, so yeah. … It's a tough feeling. You work so hard all year, and it comes down to a play like that, I don't know. I think we all could have done a little bit more to make it a game that didn't have to go down to that, but it's a tough way to lose."
McDermott: "Two teams played their tails off. Officiating is part of the game. We're not going to go there."
In real time on the court, McDermott went there with Cassell, who stayed near midcourt to let McDermott vent at him.
"That's unbelievable!" McDermott bellowed at Cassell. "That's unbelievable!"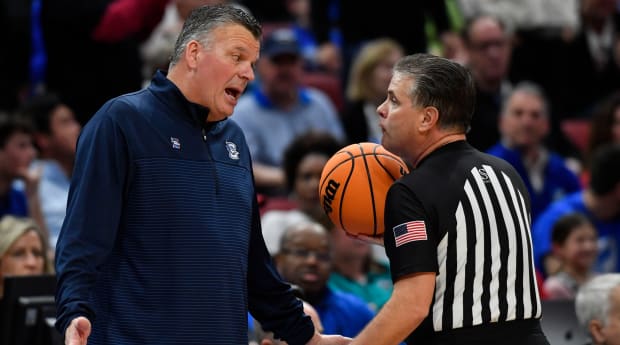 Trammell missed the first free throw, injecting some drama into the second, but the diminutive Seattle transfer swished the second. Creighton's full-court baseball pass was deflected out of bounds as time ran out.
This was probably the most controversial foul call in college basketball since the one that sent Kyle Guy to the foul line to save Virginia's national championship season in the 2019 Final Four. It's the most controversial sporting judgement call in this city since Maximum Security was disqualified in the Kentucky Derby that same year.
Cassell is a very good ref who correctly whistled a foul. If he hadn't made the call, there likely would have been no blowback. The game would have gone to overtime and been decided some other way. This is the fault line officials walk every game.
Unfortunately, the NCAA doesn't make its officials available to the media to discuss judgment calls. This is one of many instances where Cassell probably could have helped himself and his profession by explaining the call.
The most relieved person in the arena to hear that whistle was Seiko, who had hand-delivered the tying basket to Creighton with 34 seconds left. Holding a two-point lead and trying to inbound the ball in front of the Bluejays' bench, Seiko lobbed a catastrophic pass in the direction of teammate Micah Parrish right under the basket. It sailed over Parrish's head and into the hands of Creighton's Baylor Scheierman, who laid the ball in the basket for a tie.
Given how hard points were to come by, this was a stunning gift.
"Tough pass on my end," Seiko says. "Everything happened so fast. Stuff like that happens in college basketball. I was just so happy when the buzzer rang."
As it stands, the No. 5 seed Aztecs take their gritty-not-pretty, victory-by-committee style to Houston for the Final Four. If Mountain West Conference champion San Diego State were playing any other Final Four opponent of the last 12 years, it would be the charming underdog story—but semifinal opponent Florida Atlantic has put a lock on that role.
But that doesn't much matter. Favored or underdog, San Diego State plays every possession of every game in the same manner: relentless effort and endless physical and mental toughness compensating for limited skill.
As the whiteboard in the locker room read: "Defense and rebounding win championships." The Aztecs followed the mantra by harassing Creighton into a season-low 11.8% shooting from three-point range, collecting 13 offensive rebounds and holding the Bluejays to their second-lowest point total of the season.
As was the case when shocking No. 1 Alabama Friday, San Diego State just kept tightening the screws as the game went on. Down eight in the first half to Creighton and down seven with 13 minutes to play, the Aztecs willed themselves to enough baskets and hunkered down for enough stops.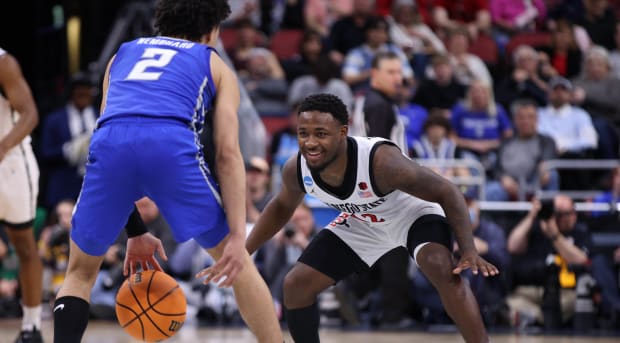 The distillation of who San Diego State is could be told through a pair of inside baskets by fifth-year senior Aguek Arop in the final four minutes. He nearly hung it up after last season, but decided to come back for a final year. The payoff was weeping tears of joy on Seiko's shoulder after this game.
Through 76 minutes of tournament basketball in Louisville, Arop had scored two points. He hardly seemed like the go-to guy with the season on the line, but everyone can be the go-to guy for the Aztecs. Twice, his teammates fed passes to the 6'7" Arop on the low block, and twice he turned for scores that produced a 54–50 lead. Then it was fellow fifth-year senior Andrew Mensah who dropped in a foul-line jump shot to set up the final, dramatic sequence of events.
After overcoming the shock of the Seiko turnover, San Diego State regrouped for the final play. The plan was for Trammell to dribble over a screen at the top of the key and throw back to Parrish on the wing—another bold plan, considering that Parrish was 0-for-6 for the game. But Trammell wheeled to the left and got into the paint, Nembhard contested—and Cassell's whistle blew.
"I trusted myself to make a play," says Trammell, who was a big-time scorer at Seattle but struggled to make shots most of this season. He finally started hitting shots in the second round of this tournament in a blowout of Furman, then carried that over to a 21-point performance against Alabama.
"Up and down, up and down, up and down," Trammell says, describing his journey from an undersized and under-recruited guard from the Bay Area. "Constantly being doubted, people not believing in me."
Aztecs coach Brian Dutcher believed. In this game, as against the Crimson Tide, he turned to Trammell several times for points when SDSU acutely needed them. And, well, SDSU certainly needed him to make at least one of two free throws with the Final Four on the line.
"I've been doing this for 22 years, and it never gets any easier," says Trammell's mom, Diema Adams-Parham. "This was the hardest moment. It was the most pivotal moment of his career."
Trammell's stepfather, Lester Parham, clamped his teeth on a white towel as Darrion went to the line. "Like Tark," he says.
Diema said to herself, "He's going to make at least one. He's got that in him. He's built for this."
In the end, after a fateful whistle, Darrion Trammell proved that he was indeed built for this Final Four moment. So was the rest of San Diego State.