It's Friday and that means it is the perfect time to enter SI Sportsbook's Perfect 10 contest for the chance to win $10,000.
How does it work? It's easy. Simply pick 10 games against the spread correctly and you can win up to $10,000. The more picks you get correct, the more free bets you earn. And what's even better? You're not competing against anyone and there's no fee to enter. Just pick the winners. That's it!
Here's an extra bonus: We have gathered SI's experts to give their picks, so you can make the most informed decisions and be well on your way to that $10,000 prize.
Our experts are 14-10 for the season.
Below are our best bets and picks for Week 4 of the NFL season.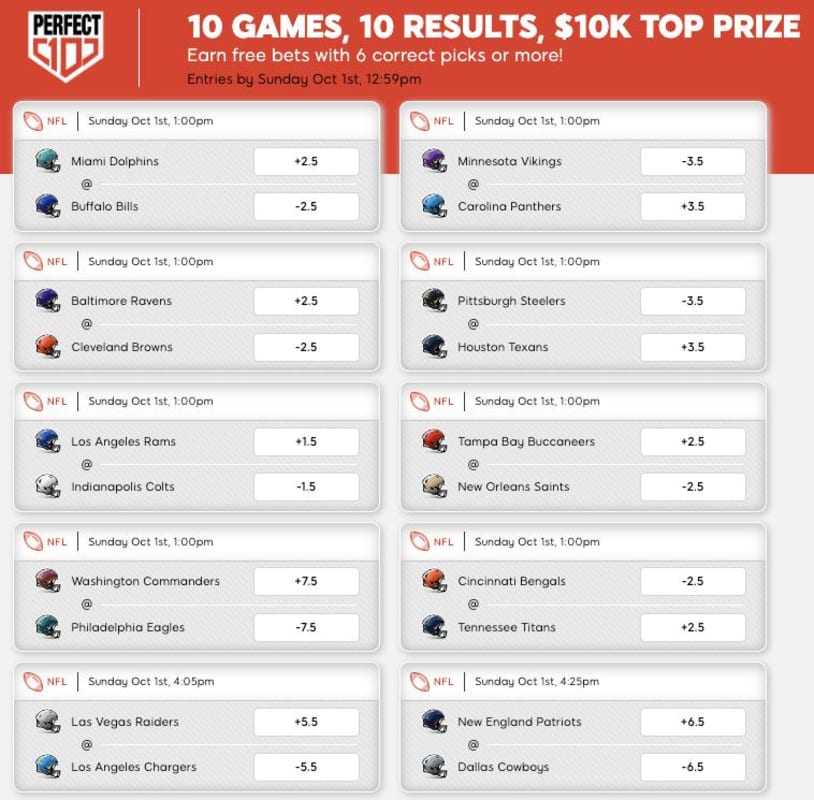 Gilberto Manzano (3-0): Texans +3.5
The C.J. Stroud-led Texans will likely score points against a Steelers defense that has struggled a bit through three games. Yes, Pittsburgh has T.J. Watt, but they're allowing an average of 387 total yards per game, including 151.6 rushing yards. Last week, the Texans crushed the Jaguars 37–17 on the road. Stroud might make a few mistakes against the experienced Steelers, but the 2023 No. 2 pick has flourished early in his career. Take the points and count on Stroud to make this game competitive.
Matt Verderame (3-0): Eagles -7.5
Has anybody else seen Sam Howell against the rush? He's been sacked 19 times. Entering Week 4, nobody else had been sacked more than 13 times. Now he's facing an Eagles front that is loaded with talent, boasting Haason Reddick and Josh Sweat off the edges with Fletcher Cox and Jalen Carter on the interior. While the Commanders beat Philadelphia at Lincoln Financial Field last season to hand the Eagles their first loss of 2022, don't expect a repeat in 2023. Philadelphia will roll.
Kye Wood (2-1): Vikings -3.5
It's admittedly tough to back a winless team laying 3.5 points on the road, but it sure helps when its opponent is not only winless as well but quarterbacked by a rookie. The Vikings have had no issue moving the ball through three weeks as Kirk Cousins currently leads the league in passing yards. Minnesota's downfall has been its porous defense. Even as bad as that unit has been, it's hard to see Bryce Young, who's expected to be back from an ankle injury, leading Carolina to score enough points to keep pace with the Vikings. The Panthers scored just two touchdowns in Young's first two starts — they'll need 20-plus points to hang with Minnesota, and it's not like Carolina's defense has been lights out, either. Take the Vikings to end their skid and cover in Charlotte.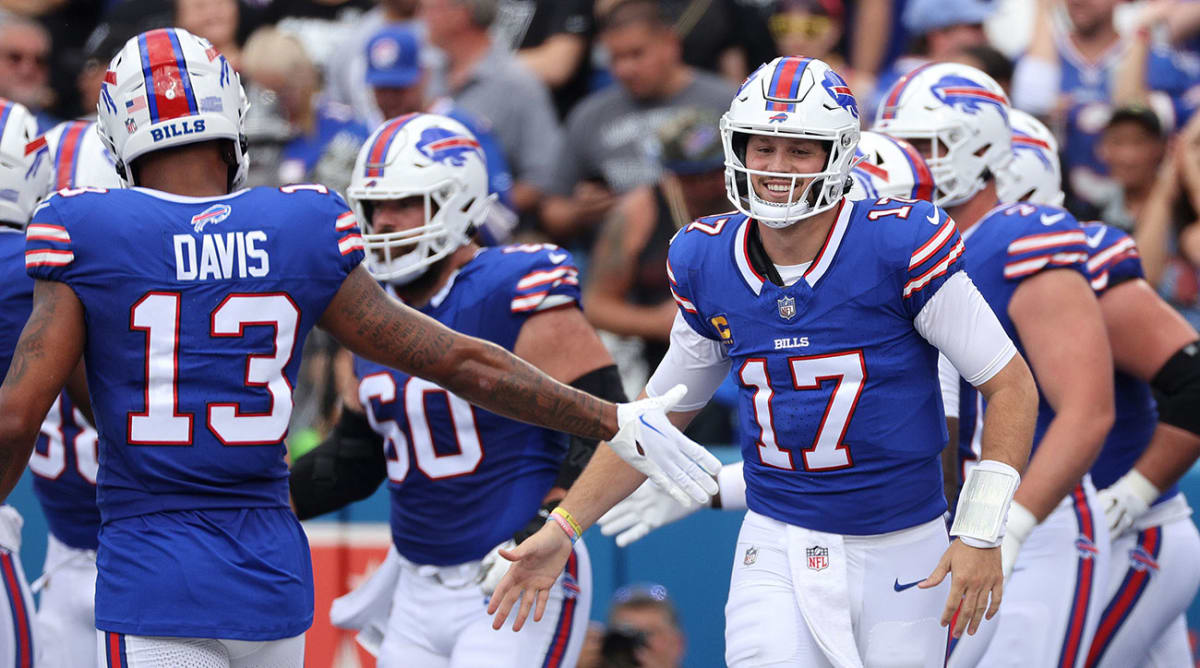 Bill Enright (2-1): Bills -2.5
There's a great scene in Star Wars that has now become a meme and I use it quite often when it comes to betting: 'It's a Trap." And the Dolphins getting points a week after they put up 70 on their opponent 100% falls into the trap the oddsmakers are laying out for bettors. It hasn't happened often, but teams that score 60 or more points one week are 0-7 against the spread the following week. The sportsbooks are looking to exploit the public's infatuation with an offense that scored 70 points just a week ago and is dangling a 2.5-point carrot as a way to entice people to take Miami. Don't fall for it. Bills win this game and they do so by more than a field-goal.
Craig Ellenport (2-1): Rams +1.5
I'd love to pick the Broncos-Bears game just for the fun of it, but how can you trust either 0-3 team? I'd also like to ride with the Browns, as I think they're for real and will win the AFC North. But I'll go with the Rams to end their two-game losing streak and win outright in Indy. It seems clear that Sean McVay and Matthew Stafford are determined to keep the Rams competitive this season. They've played two straight games against teams that were in the conference championships last season and hung in there. The Colts have played well but they've also shown a weakness in pass defense. Stafford and Puka Nacua take care of business.
I'll take the Dolphins +2.5 vs. Buffalo on Sunday. This matchup should be a fun one, as these are the top two scoring offenses through the first three games of the season. Miami is averaging 43.3 points per game, while Buffalo is averaging 30.3. Buffalo's defense has been the far superior unit, allowing only 11.7 points per game to Miami's 23.7, but the Bills have faced the Jets, Raiders and Commanders. This Dolphins offense will be much tougher to defend. I'll take the 3-0 team and top scoring offense with the points, please.
Michael Fabiano (1-2): Steelers -3.5
The Texans are coming off a huge win over the Jaguars, C.J. Stroud has looked good and all seems to be trending in the right direction for Houston. And while all of that is an indication to take them plus the points, I'm going with the opposite (cue Costanza). Since the start of last season, the Steelers have been a favorite six times, covering in four of those games. In one of the other two contests, Pittsburgh missed covering by a point. They're also 7-3 ATS in their last 10 road games, so I'm taking the Steelers.
Conor Orr (0-3): Titans +2.5
Hell yeah, 0-3! Truly an honor. It's only uphill from here. Count me among the believers that Joe Burrow is still going to be grinding his way through this calf rehab and, thus, struggling to put up a ton of points in the process. I also feel like the Titans, after getting upended against the Browns last week, are going to bring it and, in the process, keep control of the clock. 
---
* +21 in CO, VA, MI. Registered & verified players only. Promotion is valid for selected periods of time as determined by SI Sportsbook. Free Bet tokens must be claimed in 3 days and expire after 7 days. General withdrawal restrictions and full T&Cs apply.
---
f you or someone you know has a gambling problem and wants help, call the National Council for Problem Gambling 1-800-522-4700. The Arena Media Brands, LLC and its partners may receive compensation for links to products and services on this website.