Welcome to Week 5 of the fantasy football season!
Among the running backs, Alvin Kamara has moved into the top 12 after a 13-catch game against the Buccaneers. Zack Moss is in the top 30, but that could change if the Colts bring back Jonathan Taylor. Keep tabs on his status throughout the week. I also have Jaleel McLaughlin in the top 25 with Javonte Williams (hip) injured.
At wideout, Puka Nacua is (and belongs) in the top 10 at least until Cooper Kupp returns to real-game action. Michael Pittman Jr., Terry McLaurin and Brandon Aiyuk have also moved into the top 20, as has Garrett Wilson. Michael Wilson, who had two touchdowns against the Niners last week, breaks into the top 40.
At tight end, rookie Sam LaPorta remains in the top four after another nice stat line. George Kittle, Darren Waller and Dallas Goedert aren't producing, but they're all still in the top eight at what is a dreadfully thin position. On a positive note, Jake Ferguson, Zach Ertz and Tyler Higbee are moving up the ranks.
Be sure to check back for updates … and good luck everyone!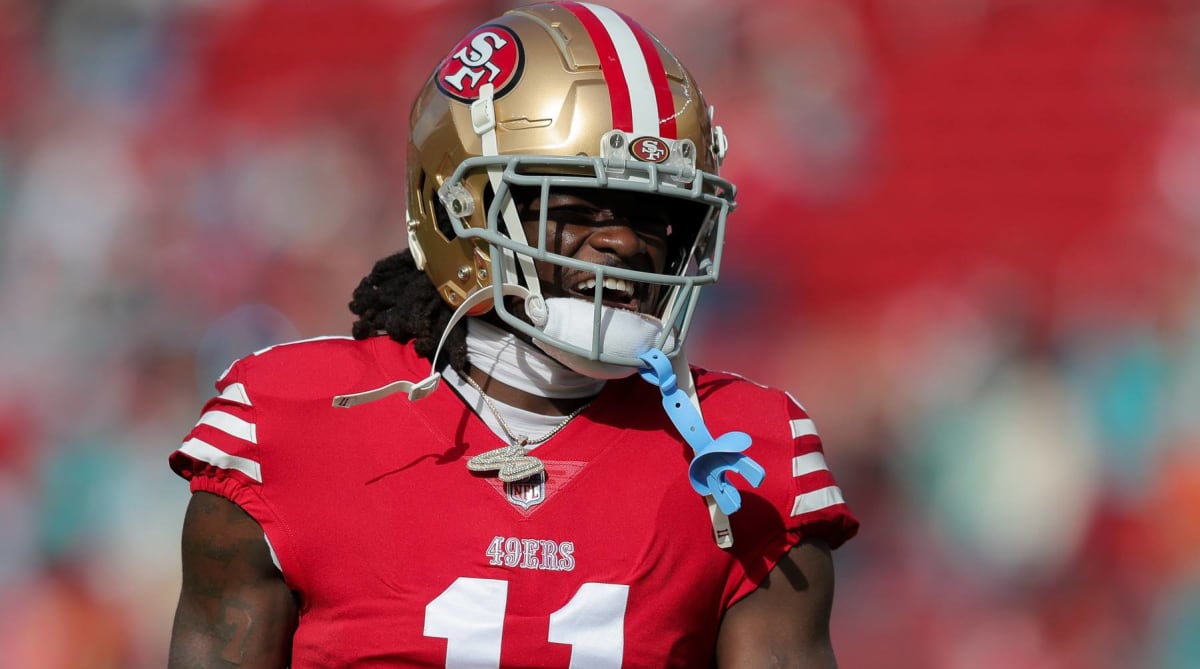 Flex Rankings
Justin Jefferson, WR, MIN (vs. KC)
Christian McCaffrey, RB, SF (vs. DAL)
Tyreek Hill, WR, MIA (vs. NYG)
Bijan Robinson, RB, ATL (vs. HOU)
Stefon Diggs, WR, BUF (vs. JAC)
Davante Adams, WR, LV (vs. GB)
Amon-Ra St. Brown, WR, DET (vs. CAR)
A.J. Brown, WR, PHI (at LAR)
Puka Nacua, WR, LAR (vs. PHI)
Ja'Marr Chase, WR, CIN (at ARI)
Tony Pollard, RB, DAL (at SF)
Derrick Henry, RB, TEN (at IND)
CeeDee Lamb, WR, DAL (at SF)
Jaylen Waddle, WR, MIA (vs. NYG)
Josh Jacobs, RB, LV (vs. GB)
David Montgomery, RB, DET (vs. CAR)
Kyren Williams, RB, LAR (vs. PHI)
Chris Olave, WR, NO (at NE)
DeVonta Smith, WR, PHI (at LAR)
Michael Pittman Jr., WR, IND (vs. TEN)
De'Von Achane, RB, MIA (vs. NYG)
Brandon Aiyuk, WR, SF (vs. DAL)
Joe Mixon, RB, CIN (at ARI)
Travis Etienne, RB, JAC (at BUF)
Alvin Kamara, RB, NO (at NE)
Travis Kelce, TE, KC (at MIN)
D'Andre Swift, RB, PHI (at LAR)
Terry McLaurin, WR, WAS (vs. CHI)
Garrett Wilson, WR, NYJ (at DEN)
Nico Collins, WR, HOU (at ATL)
Brian Robinson Jr. , RB, WAS (vs. CHI)
Zay Flowers, WR, BAL (at PIT)
Calvin Ridley, WR, JAC (at BUF)
Isiah Pacheco, RB, KC (at MIN)
James Cook, RB, BUF (vs. JAC)
Deebo Samuel, WR, SF (vs. DAL)
Christian Kirk, WR, JAC (at BUF)
Adam Thielen, WR, CAR (at DET)
Aaron Jones, RB, GB (at LV)
DJ Moore, WR, CHI (at WAS)
George Pickens, WR, PIT (vs. BAL)
Courtland Sutton, WR, DEN (vs. NYJ)
Raheem Mostert, RB, MIA (vs. NYG)
James Conner, RB, ARI (vs. CIN)
Breece Hall, RB, NYJ (at DEN)
Marquise Brown, WR, ARI (vs. CIN)
Rhamondre Stevenson, RB, NE (vs. NO)
Alexander Mattison, RB, MIN (vs. KC)
T.J. Hockenson, TE, MIN (vs. KC)
DeAndre Hopkins, WR, TEN (at IND)
Romeo Doubs, WR, GB (at LV)
Jakobi Meyers, WR, LV (vs. GB)
Tutu Atwell, WR, LAR (vs. PHI)
Christian Watson, WR, GB (at LV)
Jaleel McLaughlin, RB, DEN (vs. NYJ)
Mark Andrews, TE, BAL (at PIT)
Dameon Pierce, RB, HOU (at ATL)
Gabe Davis, WR, BUF (vs. JAC)
Sam LaPorta, TE, DET (vs. CAR)
Jordan Addison, WR, MIN (vs. KC)
Tank Dell, WR, HOU (at ATL)
Jerry Jeudy, WR, DEN (vs. NYJ)
Zack Moss, RB, IND (vs. TEN)
Jahmyr Gibbs, RB, DET (vs. CAR)
Khalil Herbert, RB, CHI (at WAS)
Michael Thomas, WR, NO (at NE)
Jahan Dotson, WR, WAS (vs. CHI)
Miles Sanders, RB, CAR (at DET)
Tyler Boyd, WR, CIN (at ARI)
Najee Harris, RB, PIT (vs. BAL)
Drake London, WR, ATL (vs. HOU)
Michael Wilson, WR, ARI (vs. CIN)
George Kittle, TE, SF (vs. DAL)
Darren Waller, TE, NYG (at MIA)
Gus Edwards, RB, BAL (at PIT)
Rashee Rice, WR, KC (at MIN)
Evan Engram, TE, JAC (at BUF)
Curtis Samuel, WR, WAS (vs. CHI)
Samaje Perine, RB, DEN (vs. NYJ)
Tyler Allgeier, RB, ATL (vs. HOU)
Jaylen Warren, RB, PIT (vs. BAL)
Kenneth Gainwell, RB, PHI (at LAR)
Josh Reynolds, WR, DET (vs. CAR)
Jayden Reed, WR, GB (at LV)
Dallas Goedert, TE, PHI (at LAR)
Jake Ferguson, TE, DAL (at SF)
Robert Woods, WR, HOU (at ATL)
Wan'Dale Robinson, WR, NYG (at MIA)
A.J. Dillon, RB, GB (at LV)
Tyler Higbee, TE, LAR (vs. PHI)
Allen Lazard, WR, NYJ (at DEN)
D.J. Chark, WR, CAR (at DET)
Kendrick Bourne, WR, NE (vs. NO)
Matt Breida, RB, NYG (at MIA)
Zach Ertz, TE, ARI (vs. CIN)
Roschon Johnson, RB, CHI (at WAS)
Skyy Moore, WR, KC (at MIN)
Chuba Hubbard, RB, CAR (at DET)
Josh Downs, WR, IND (vs. TEN)
Dalton Kincaid, TE, BUF (vs. JAC)
---
Position-by-Position Rankings:
Quarterbacks
Running Backs
Wide Receivers
Tight Ends
Flex (RB/WR/TE)
Kickers
Defense/Special Teams