The scoreboard showed four errors for the Rays, a postseason franchise worst. It was only a hint of how badly they played in Tuesday's 4–0 loss to the Rangers in Game 1 of this American League wild-card series.
Now the Rays are one loss away from flushing a 99-win season, just as they did last year when their 86 wins went poof after losing two games to Cleveland in which they scored just one run. Tampa Bay has lost six straight postseason games, the past three of them while scoring one run. Total.
The postseason defeats last year to Cleveland prompted something of an offensive intervention. Manager Kevin Cash called it "a rude awakening." Tampa Bay hit .115 while chasing pitches out of the zone 40% of the time, an absurd rate when you consider the major league average is 28.5%.
The Rays changed their emphasis in spring training to swing decisions over mechanics. It seemed to work for much of the year, this being the highest scoring team in franchise history and fourth overall in MLB. But in truth, Tampa Bay makes too many poor swing decisions. Good pitching can exploit them. They chased more than any team that made the postseason this year (34.2%), and more than every team but the White Sox, Rockies and Guardians. In the heat of the postseason, it happened again: the Rays lost their plate discipline.
Tampa Bay kept chasing the assortment of breaking and off-speed pitches from Jordan Montgomery and did little with them.
In addition to the poor swing decisions on offense, the Rays made key mistakes in these areas as well:
Throwing first-pitch strikes to Corey Seager
Seager is the most notorious first-pitch hitter in the majors. The Rays got burned twice by feeding him first-pitch cookies:
A hanging curveball by Glasnow leading off the fifth that Seager blasted for a double off the glove of a leaping Jose Siri in center field. Seager scored on a wild pitch.
A middle-middle changeup from Chris Devenski in the sixth that Seager ripped for an RBI single. A second run scored on ...
Siri not playing under control
He played Seager's hit off to the side and was lucky to get a glove on it, sending it high in the air. When he retrieved it, he heaved it into the Rangers' dugout, letting another run score. Devenski, who should have been between home and third awaiting which base to back up, wasn't there to prevent the ball from going out of play.
Failing to execute bunts
Wait. What? The Rays and bunts? Tampa Bay had only six sacrifice bunts all year, fifth fewest in baseball.
In the second inning, down 1–0, Manuel Margot bunted with no outs and a runner on first. He was actually trying for a base hit; he did have three bunt singles this year. He did not get it far enough away from Montgomery and was thrown out.
Taylor Walls singled, giving the Rays first and third one out—the pivotal point in the game. Siri attempted a safety squeeze—the old Zimmer Special, named for Don Zimmer, the inventor of the nearly indefensible play. With the first baseman holding the runner at first, any bunt on the ground to the right side will score the runner. But Siri, with poor fundamental bunting form, popped it up. Montgomery, a.k.a. "Gumby," made a terrific diving catch. But Siri cannot bunt that ball in the air.
The #postseason means you go all out! pic.twitter.com/7G3cfkMSMG

— MLB (@MLB) October 3, 2023
Runs Thrown In (RTIs)
Former Giants coach Tim Flannery invented the term "Runs Thrown In" when a Giants team starved for hits thrived on teams allowing runs to score by throwing the ball away.
The Rays gave the Rangers two RTIs: the throwing error by Siri and a wild pitch by Glasnow.
Riding Glasnow
Cash sent Glasnow back out for the sixth with 88 pitches and the Texas lineup one batter away from turning over a third time and a throbbing left leg that was smoked by a line drive the previous inning. Glasnow missed the plate badly with eight of his next 10 pitches to Evan Carter and Marcus Semien, walking both. Both runners scored.
The oddity here is that Cash is one of the most proactive managers when it comes to pulling his starters. He let his starters throw 100 pitches only eight times all year. Only the Rockies had fewer 100-pitch games. Glasnow was allowed to face a 27th batter only three times all year, and not since Sept. 1.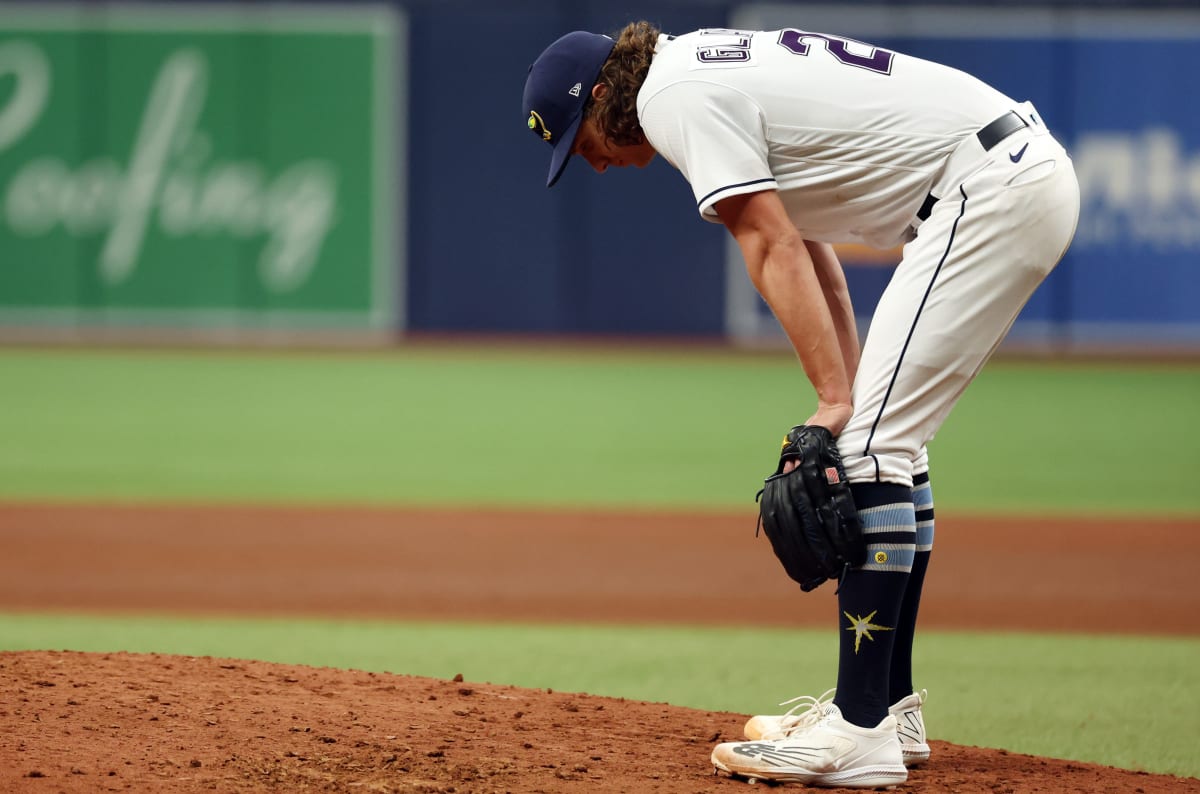 Too many walks
The Rays walked six batters. In the postseason's wild-card era, when you walk six batters in a nine-inning game you lose 73% of the time (54–147).
Here we give credit to the Texas hitters, who won the "swing decisions" game, especially rookie Evan Carter. At age 21 years and 35 days, with two walks and two hits, Carter became the youngest player to reach base four times in his postseason debut, displacing Dylan Carlson (2020 NLDS), who displaced Joe Medwick (1934 World Series). Carter did it while batting ninth, looming as a huge X factor possibility in this postseason.
The Rays need to bounce back Wednesday with Zach Eflin starting for the Rays against Nathan Eovaldi in Game 2. The Texas righthander relies on fewer chase swings than Montgomery, but every pitcher is a test for Tampa Bay, especially in the postseason. After the Game 1 mess, the Rays need nothing short of a clean game. Their 99 wins are riding on it.