Here's a look at some of the fantasy players who had the best and worst performances over the first month of the season. These players are already on fantasy rosters in most leagues, so take this information into potential trade talks as you try to sell high or buy low.
Stock Up
Puka Nacua, WR, Rams
Who needs Cooper Kupp when you have Puka? The rookie has been one of if not the biggest riser in fantasy football, posting 39 catches for 501 yards with one score and 95.5 points (23.4 PPG). Nacua, who wasn't drafted in most fantasy leagues, is on pace to finish with 166 catches! That pace is likely to slow, maybe considerably, once Kupp returns, but for now he's pushed into the elite wideout group.
Anthony Richardson, QB, Colts
Richardson was a popular breakout candidate in fantasy drafts, and he's been better than even most fantasy fans expected. Over his two-plus games, the rookie ranks second behind only Josh Allen among quarterbacks on a points-per-game basis. He's on pace to rush for well over 700 yards, and his four rushing touchdowns are tied with Lamar Jackson for the NFL lead among all quarterbacks in 2023.
Kyren Williams, RB, Rams
Williams has come out of nowhere to become a top-three fantasy running back after the first month of the season. He has dominated the backfield snaps and touches in Los Angeles, so much so that the Rams dealt Cam Akers to Minnesota. Williams, who wasn't even drafted in a lot of fantasy leagues, has already scored seven total touchdowns over his first four games. He's now a virtual must-start back.
De'Von Achane, RB, Dolphins
Achane is a top-five running back after the first four weeks, and played on just six offensive snaps in his first two games. That is insane! In the last two weeks, he's rushed for 304 yards, including 203 yards in Week 3, has six total touchdowns and has put up 78.3 points. Those are video game numbers! Achane has gone from a waiver-wire player to someone who needs to be in lineups every week.
Keenan Allen, WR, Chargers
Allen has been one of the elite receivers in fantasy football, posting a nuclear 35 catches for 434 yards with four total touchdowns after four weeks. Allen, who is averaging 25.7 fantasy points, is just fewer than a 10th of a point behind superstar Justin Jefferson for the top spot in that category. With the Chargers throwing the ball a ton and Mike Williams out of the season, Allen should continue to shine.
---
Stock Down
Joe Burrow, QB, Bengals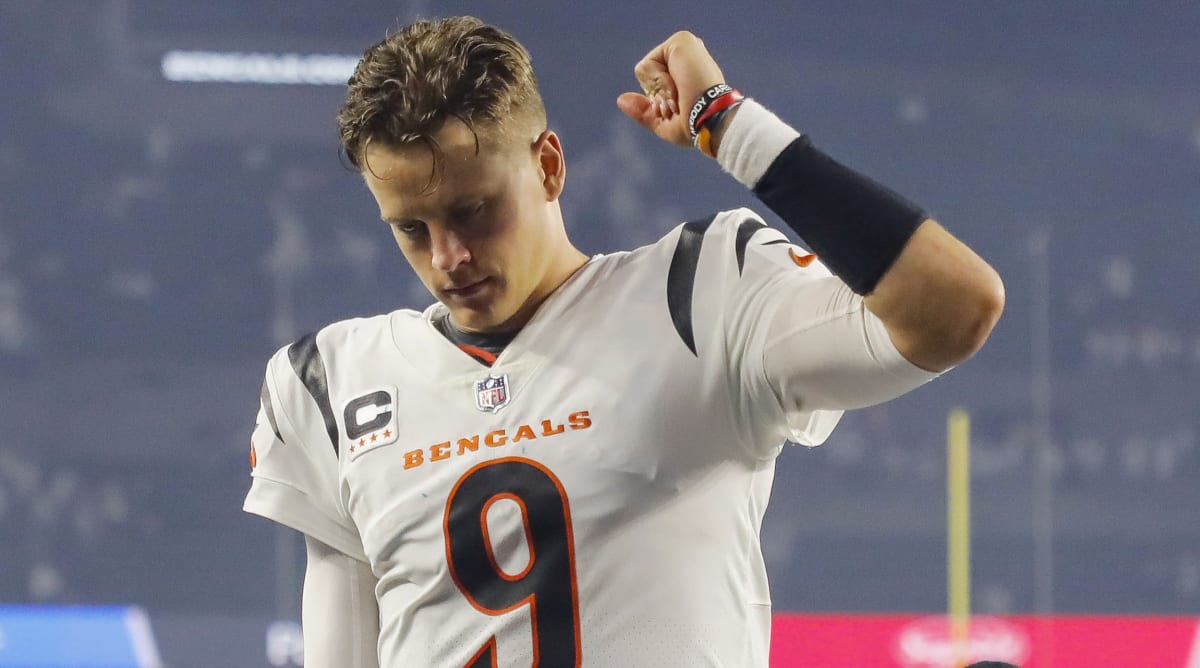 I'm not sure who's wearing that No. 9 uniform for the Bengals, but it looks nothing like Burrow as it pertains to the stat sheets. He's averaging an awful 182 yards per game (he averaged 280 last season), has just two touchdown passes and has put up eight points per game. That's down 13 points from 2022. A calf injury is at least partially to blame, but Burrow isn't even startable in one-quarterback leagues.
Josh Jacobs, RB, Raiders
Jacobs opened the season with three stinkers, scoring a combined 30 points in his first three contests. That includes a game against Buffalo, where the reigning rushing champion was held to minus-2 yards on the ground. The good news is that he put up 27.9 points in Week 4, which hopefully is the start of some solid stat lines. But for most of the first four games, Jacobs has failed to meet higher expectations.
Najee Harris, RB, Steelers
Harris has gone from an elite running back as a rookie to someone we can't even trust when the matchup is uber-favorable. In his last two games against two of the worst run defenses (Raiders and Texans), Harris averaged an awful 8.9 points. The Steelers offense is a train wreck, too, and Jaylen Warren is getting enough burn to make Harris even harder to trust as a fantasy starter in most leagues.
Ja'Marr Chase, WR, Bengals
Chase was the second overall pick in a lot of fantasy leagues, but he's not lived up to that lofty draft status. He started the season with a combined 17.2 points in his first two games, and he's been held under 15 points in three of four contests to this point. His struggles have everything to do with Burrow, who can't throw deep due to his injured calf. Managers have to start Chase, but he's had a rough start.
DeAndre Hopkins, WR, Titans
Hopkins has long been one of the top wide receivers in fantasy football, but he's been mostly disappointing in Tennessee. He's averaging a dreadful 9.9 points per game, including two games with eight or fewer points. By comparison, he averaged 16.9 points last season and 14.7 the season before. Maybe he'll turn it around, but for now Hopkins is no more than a risk-reward flex starter for managers.