Editors' note: This story contains graphic language of a sexual nature.
While the SEC typically lays claim to being the Wild West of coaching scenarios, it's the Big Ten that has two open jobs by mid-September. Northwestern opened over the summer, and Michigan State signaled its intent to terminate Mel Tucker for cause in a letter earlier this week.
That letter follows an initial suspension without pay, which at the time the school said was pending the results of an October Title IX hearing into claims by sexual violence advocate Brenda Tracy that Tucker acted inappropriately with her, with behavior including flirting, commenting on her looks and masturbating while on the phone with her. Tucker has said that all behavior was consensual. The Spartans contend that is enough to fire him for cause, citing in their letter moral turpitude clauses in his contract and highlighting she was a paid school vendor.
It has been abundantly clear since news of the scandal broke on the night of Sept. 9 that Tucker had coached his last game at Michigan State. The writing was on the wall, but the university needed to take its steps carefully. Why? Well, Tucker will likely fight this tooth and nail, and has already signaled his intent to sue, making the typical claims about being optimistic about discovery. Whether it actually gets to that point is unlikely, but as far as these types of terminations go, Michigan State may be on firmer ground than some similar cases, experts say. For the Spartans to prove they did things by the book they have to indeed attempt to do things by the book.
In 2018, Kansas attempted to dismiss former head coach David Beaty without paying his buyout by trumping up NCAA violations. It ended up paying $2.55 million of $3 million owed. UConn tried to do the same with men's basketball coach Kevin Ollie. Following a pair of lawsuits, Ollie ended up walking away with more than $11 million. Michigan State's situation is orders of magnitude greater because of the dollar amount the school is trying to avoid paying Tucker. What remains on his buyout is roughly $80 million. In the school's best-case scenario, it gets away without paying him a cent.
Two athletic administrators, both with legal backgrounds, said $20 million would be the high end of what they would expect a possible settlement to be.
"Of for-cause terminations, I think they're on solid footing," one of them told Sports Illustrated.
The fact that Tucker's defense has been to concede certain facts while insisting everything was consensual, already puts him in a challenging legal position, according to multiple legal experts. Michigan State is clearly going above and beyond to prove its process is as by the book as possible. One administrator cautioned that it is highly doubtful all the details of Tucker's conduct have been released yet, but that the specific mention (multiple times) that Tracy is a vendor looms large.
All of this as a backdrop will affect how the Michigan State job is perceived on the coaching market. Yes, it is a Big Ten job, and therefore in one of the two most powerful conferences in college football. But it wasn't in the upper tier of jobs in that league and will be immediately lower in the pecking order when Washington, Oregon, UCLA and USC enter the league July 1. It is arguably the eighth-best job in the league and it is not even the best job in the state.
There is a notion that Big Ten teams are flush with cash because of the recent media-rights agreement for the headline amount of seven years and $7 billion. But league administrators have cautioned both on the record and on background about what that number may really mean. Speaking in August, Illinois athletic director Josh Whitman said:
"Certainly the financial benefits are meaningful. … It will allow us to continue to be, I think, very stable in an uncertain environment. I will say on that front, I don't think that everyone should believe everything they read for what the projections are. I don't think that the numbers will be quite where some have been reported. It looks like things will start flat, and then we will start to move up gradually, in future years."
ESPN reported in May that Big Ten schools will have to pay some money back to Fox, and some dollar figures related to other parts of the deal are in flux. There's also the understanding in college sports that once ADs know more money is coming, it often gets earmarked immediately.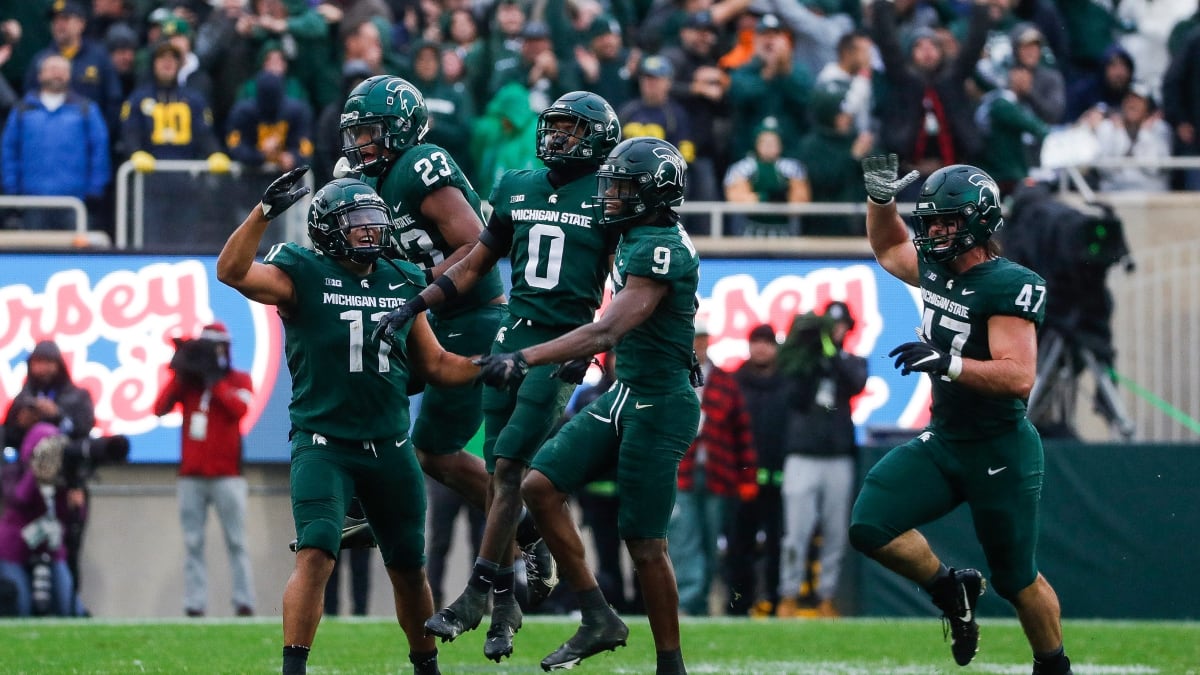 There is also the idea that Michigan State itself is flush with cash to reset the market again, as it did with Tucker's announced 10-year, $95 million contract extension back in 2021. That will likely partially depend on how much superbooster Mat Ishbia, the Phoenix Suns and Mercury owner, among others, is willing to open his wallet again—and how much he really opens it this time.
On Tucker's contract, Ishbia contributed less than it initially appeared. It later came out, according to an interview Ishbia gave to HBO's Real Sports, that he had donated only $14 million to the school's athletic department. Documents and reporting by the Detroit Free Press confirmed that.
Another big headwind in college athletics—affecting all programs—is the looming specter of paying college athletes either via revenue sharing or straight up as employees. Any CFO at any school worth their salary is planning for this reality, but the tricky thing is nobody has any idea how many athletes may need to be paid if the National Labor Relations Board forces schools to do so. Will it be just football? Just football and men's basketball? More than that? No one knows how much schools may be forced to pay them, either (minimum wage or more?). It's why one administrator said, "I couldn't even ballpark it for you within $10 million."
However, the idea that there may be any financial cooling of the jets in the college football coaching market has been kicked around before, most recently during the thick of the COVID-19 pandemic. Auburn ate Gus Malzahn's $21 million buyout then, anyway, among other expensive moves during that 2020 cycle.
Michigan State has not hired a search firm yet, according to industry sources. Which coach they eventually hire may have different demands on what essentially amounts to hazard pay to take this job entering such a tricky situation. A young coach may demand more guaranteed years on the deal. A more tenured coach may opt for something more front-loaded. Time will tell what coach Michigan State actually ends up going for. Does the school opt for a coach adept at using the transfer portal knowing Tucker struck gold once then never was able to find the magic again with free-agent additions? Or one more focused on high school recruiting and development? Either way, returning Michigan State to the recent high-water mark of 11 wins under Tucker in 2021 will be a tall task.