GlobeNewswire
Lever Global Corporation (OTCQB: LVER) to Present at the Financial Services Virtual Investor Conference on September 21, 2023
Company invites individual and institutional investors, as well as advisors and analysts, to attend in person or online at VirtualInvestorConferences.com
News provided by
Virtual Investor Conferences
Sep 19, 2023, 8:35 AM ET
WEST HOLLYWOOD, Calif., Sept. 19, 2023 (GLOBE NEWSWIRE) -- Lever Global Corporation ("Lever" or the "Company"), a leading innovator in the student loan management sector, is pleased to announce its participation as a presenter at the upcoming Financial Services Virtual Investor Conference on Thursday, September 21, 2023.

DATE: September 21st
TIME: 1:00 PM ET
LINK: https://bit.ly/3DBQ7Sy
Available for 1x1 meetings: September 21st
The conference, which brings together key players in the financial services sector, offers Lever a unique platform to share its story, vision, and the significant strides it has made in addressing the challenges faced by student loan borrowers.
Key Highlights of Lever's Presentation:
Resumption of Student Loans: The U.S. Department of Education's decision to resume interest and repayments on student loans marks a pivotal juncture in the financial landscape. Lever's CEO will delve into the implications of this decision and how Lever is strategically positioned to provide unparalleled support to the millions affected.
Lever's Impact: With its innovative solutions and user-centric approach, Lever has already made a significant positive impact in assisting borrowers navigate their student loan landscape. The presentation will highlight Lever's achievements to date and its commitment to making student loan management more accessible and efficient.
Vision for the Next 12 Months: Lever's roadmap for the upcoming year is both ambitious and transformative. Attendees will gain insights into the Company's expansion plans, technological advancements, and strategic partnerships aimed at solidifying its position as a market leader.
Engaging with the Investment Community: Lever recognizes the importance of maintaining transparent and open communication with its investors. The presentation will provide an opportunity for attendees to engage in a Q&A session, allowing for a deeper understanding of Lever's value proposition and growth trajectory.
CEO of Lever Global Corporation, Trent McKendrick commented: "We are honored to be a part of the Financial Services Virtual Investor Conference. This platform provides us with a unique opportunity to share Lever's journey, our response to the evolving student loan landscape, and our vision for the future. We are excited about the path ahead and look forward to engaging with the investment community during this event."
This will be a live, interactive online event where investors are invited to ask the company questions in real-time. If attendees are not able to join the event live on the day of the conference, an archived webcast will also be made available after the event.
It is recommended that online investors pre-register and run the online system check to expedite participation and receive event updates.
Learn more about the event at www.virtualinvestorconferences.com.
Recent Company Highlights
Innovative Solutions: Introduced a state-of-the-art platform that simplifies student loan management, making it more accessible for borrowers nationwide.
Strategic Partnerships: Established collaborations in Washington, Texas, and California, providing direct access to over 300,000 student loan borrowers.
Tech Advancements: Revamped the Lever App's UX/UI, ensuring a seamless onboarding experience and effortless navigation.
Credit Intelligence: Integrated with top-tier data and API partners, offering users advanced insights into their credit health and tailored repayment strategies.
About Lever Global Corporation: Lever Global Corporation (OTCQB: LVER) is at the forefront of revolutionizing the student loan management sector. With its state-of-the-art platform and a suite of tools, Lever is dedicated to assisting students and graduates in navigating the complexities of their student loans. The Company's unwavering commitment to innovation and excellence has positioned it as a trusted partner for borrowers nationwide.
About Virtual Investor Conferences®
Virtual Investor Conferences (VIC) is the leading proprietary investor conference series that provides an interactive forum for publicly traded companies to seamlessly present directly to investors.
Providing a real-time investor engagement solution, VIC is specifically designed to offer companies more efficient investor access. Replicating the components of an on-site investor conference, VIC offers companies enhanced capabilities to connect with investors, schedule targeted one-on-one meetings and enhance their presentations with dynamic video content. Accelerating the next level of investor engagement, Virtual Investor Conferences delivers leading investor communications to a global network of retail and institutional investors.
CONTACTS:
For further information, please contact:
Andrew Barwicki, Investor Relations
Email: andrew@barwicki.com
Phone: 516-662-9461 
Virtual Investor Conferences
John M. Viglotti
SVP Corporate Services, Investor Access
OTC Markets Group
(212) 220-2221
johnv@otcmarkets.com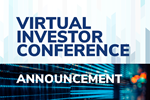 NOTE: This content is not written by or endorsed by "WBGH/WIVT", its advertisers, or Nexstar Media Inc.
For inquiries or corrections to Press Releases, please reach out to GlobeNewswire.